SEPECAT Jaguar - Survivor XX725
GR.3A XX725 - DSAE, RAF Cosford, Shropshire
Jaguar GR.3A XX725 at Cosford, 21st April 2022; Jake Wallace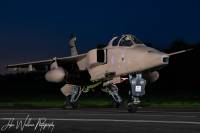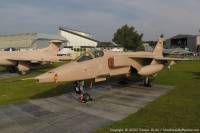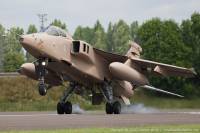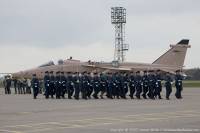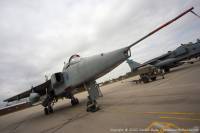 First flown on 8th May 1974, XX725 entered service with 226 OCU the next month. As part of the deal of selling the Jaguar to the Indian Air Force she was returned to BAC in June 1979, given the civilian reg of G-27-325 and then loaned to the Indian Air Force, who serialled her JI010.
She returned to the RAF in April 1984 and went on to serve with the SAOEU and then 54 Squadron (coded GU) at RAF Coltishall. She took part in Operation Granby, the liberation of Kuwait, with the fabulous 'Johnny Fartpants' nose art.
Later she served with 41 Squadron (coded FE), 54 Squadron (coded GU - including spending early 2005 in snow camouflage) and 6 Squadron (coded EE) at RAF Coltishall, and latterly RAF Coningsby. She was selected to be the centerpiece of the Squadron's disbandment parade in June 2007 and was repainted in desert sand colours with striking 'Flying Canopener' nose art; I think it may have been at this point her fin was swapped for another one, and she was coded T.
On her retirement flight to Cosford on 2nd July 2007, her tail code had been amended by the groundcrew to read 'TIM', and after arrival her nose art panel was removed and retained by the Squadron, with a plain example put in its place. Initially used for live taxiing, she is now - in common with Cosford's other Jags - just used for static ground instructional use. She's lost her 'TIM' tailcode and is now marked KC-F, which is a 238 Squadron code from WWII - 238 Squadron is the Line Training Flight at Cosford.
| | |
| --- | --- |
| | Information on this page current as of 24/04/2022, last updated by Jake |
Find other photos of XX725 on the following sites:

Air-Britain - Airliners.net - Airplane-Pictures.net - flickr.com - WorldAirPics.com - JetPhotos.net - PlanePictures.net