SEPECAT Jaguar - Survivor XZ382
GR.1 XZ382 - Privately owned, Bruntingthorpe Aerodrome, Leicestershire
Jaguar GR.1 XZ382 at Bruntingthorpe, 28th May 2022; Jake Wallace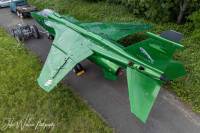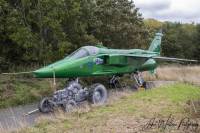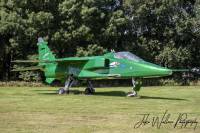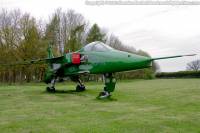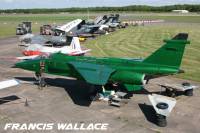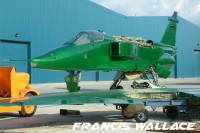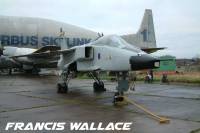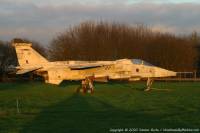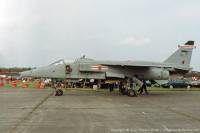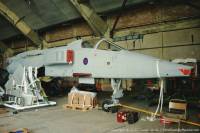 First flown on 10th March 1977, XZ382 entered service with 14 Squadron at RAFG Brüggen, coded AE. The rumor is that this jet was overstressed during a deployment to Goose Bay, and returned to the UK in a dismantled state, initially stored at RAF Shawbury, in November 1985. She was relegated to ground instructional duties at No.1 SoTT, RAF Halton in November 1986 as 8908M.
In 1992 she moved to RAF Coltishall for battle damage repair training duties, which lasted until 1998 when she was put up for disposal by auction. BDRT duties had left her as a battered shell with many parts missing, but the guys at Coltishall put her back together (lots of new sheet metal, filler, and the fitting of two starboard tailplane units!). She was then painted with a temporary ARTF overall grey scheme, initially still coded AE.
An American buyer bid on her, sight unseen, apparently under the mistaken impression that a 'Jaguar' was a WW2 warbird, pushing the price up to an insane £18,000 and had her transported to Bruntingthorpe. With the American buyer failing to get an export license and realizing he had bought something other than what he expected, XZ382 was instead acquired by Dave Walton at Buntingthorpe. She was reassembled and was given dual 41 Squadron and 54 Squadron colours (41, coded FO port side and 54, coded GH on the starboard side). Sadly, being outdoors all the time soon had the temporary ARTF paint (OK for indoors or a few weeks on deployment) looking very tatty.
By 2003 her original grey/green was beginning to show through her rather patchy and faded grey, so in 2004 a repaint of the grey was begun, returning her to having no squadron markings and her old tail code of AE. This didn't last long as a tie-up with the Jaguar F1 racing team in 2006 paid for a repaint into a shiny Jaguar racing green colour for one of their events at Brunty. Although a unique colour scheme, it is very much a love it or hate it scheme. After that, she became the gate guardian for the airfield, though at some point in the repaint various parts had gone missing so that her tailplanes now hung at a ridiculous angle. Since then she's helped other Jaguar restorations with a few parts cannibalized from her mostly empty shell.
After guarding the entrance for decades, XZ382 was taken off the gate in September 2020 due to Cox Automotive leasing the airfield. She was towed up onto the driveway to Jetstream Motorsports where she is now safe. This airframe is sadly not going to be a part of the museum (at least not anytime soon) and is not publicly accessible. XZ382 has sadly not been touched since she was towed there in late 2020. The paintwork on her port side is still in great condition, however, her starboard side markings have faded and pealed badly due to years of being sat in direct sunlight. Her starboard side is also starting to turn greener than the green she already is, due to being sat next to the trees. Although her paint scheme has been disliked by many, and yet loved by many, hopefully, the airframe will go on display somewhere in the future where it can be and seen and also receive some TLC.
| | |
| --- | --- |
| | Information on this page current as of 02/06/2022, last updated by Jake |
Find other photos of XZ382 on the following sites:

Air-Britain - Airliners.net - Airplane-Pictures.net - flickr.com - WorldAirPics.com - JetPhotos.net - PlanePictures.net