English Electric Canberra - Survivor WV787
B.2(mod) WV787 - Newark Air Museum, Newark, Nottinghamshire
Canberra B.2(mod) WV787 at Newark Air Museum, 31st March 2021; Damien Burke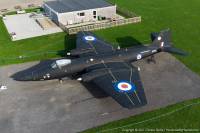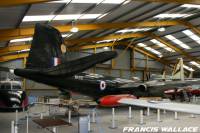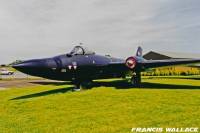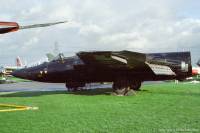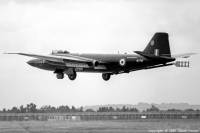 WV787 is a Canberra with an important and varied trials career and sports a gloriously sinister satin black paint scheme. Built at Preston in 1952 as a B.2, WV787 was employed as a trials aircraft for all 33 years of her working life. These trials began at Bitteswell, where Armstrong Siddeley Sapphire Sa7 engines were installed in modified engine nacelles for reheat trials. The reheated Sapphire's development was for use in the Mk 8 and Mk 9 Javelins. WV787 then was transferred to Ferranti for radar trials with the NA39 (Buccaneer) Blue Parrot radar and re-built with a B(I).8 nose at Turnhouse with a "Buccaneer" type radome grafted on. No other B(I).8 mods were made so she remained officially as a B.2!
WV787 was next with the Aircraft & Armament Experimental Establishment at Boscombe Down where it was fitted out as a tanker to carry out de-icing trials on other aircraft, notable amongst these being de-icing tests on the C-130, Nimrod and Jaguar. Water was sprayed from a long spray-bar that ran along under the rear fuselage (no longer in evidence) and also from spray nozzles fitted close under both jet exhausts. A rearward facing closed circuit televison camera was fitted, just behind the bomb bay, so that test aircraft flying in the spray could be filmed. Diesel fuel could also be pumped into the engine exhausts to produce smoke, the fuel being carried in the tip tanks (no longer fitted). There is some evidence that the aircraft was also used in some short-lived cloud seeding trials.
WV787 was also used as an aerodynamic test bed for the Canberra T.22, the Buccaneer nose that she was fitted with being similar to that proposed for the new Canberra variant. During the mid 70s, WV787 was employed in an air-to-air photography role and remained at Boscombe Down until 1984. She was then disposed of by being transferred to the Battle Damage Repair Flight at RAF Abingdon but before she could be repaired to death, she was saved by the Newark Air Museum in 1985.
They put right much of the BDRT damage - including fitting a new rear fuselage and she has been on display at museum for many years, mostly outdoors but with a period spent undercover. At the time of writing she is once again outside but apart from the clouded canopy, is holding up pretty well.
| | |
| --- | --- |
| | Information on this page current as of 12/08/2021, last updated by Damien |
Find other photos of WV787 on the following sites:

Air-Britain - Airliners.net - Airplane-Pictures.net - flickr.com - WorldAirPics.com - JetPhotos.net - PlanePictures.net