English Electric Canberra - Survivor WJ565
T.17 WJ565 - South Yorkshire Aircraft Museum, AeroVenture, Doncaster, Yorkshire
Canberra T.17 WJ565 at South Yorkshire Aircraft Museum, 22nd September 2023; Jake Wallace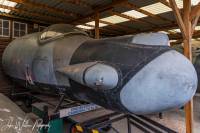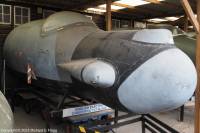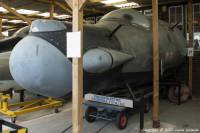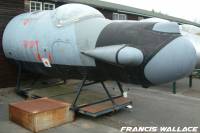 WJ565 was the second production aircraft built under contract 6/Acft/5943/CB6(b) placed in October 1950 for 100 B.2s (only 75 of this contract were actually built). Ready for collection on 31 March 1953, WJ565 was taken onto the charge of Controller (Aircraft) and sent, on 9 April 1953, to A&AEE to undertake bombing trials.
She stayed with A&AEE for a year before being dispatched, on 19 April 1954, to the Boulton Paul works at Defford where she was used in trial installations of the BP gun pack - this equipment later to be used by B(I).8s and B(I).6s. At an unknown date, WJ565 was returned to A&AEE. Then she was converted to T.17 standard at Samlesbury, again date unknown, before being issued to the RAF for service with 360 Sqd.
As 360 Sqd was formed at RAF Watton on 1 April 1966 and received its T.17s around the September of that year, WJ565's conversion would have been circa 1964/5. She flew in the ECM trainer role until February 1981 when she was transferred into storage at RAF St Athan. WJ565's last flight, as "CL", was on 2 November 1981, and she had only 3509 hours on the airframe.
November 1985 saw this T.17 being allocated as a Ground Instructional Airframe, No 8871M, and issued to No 2 School of Technical Training based at RAF Cosford where she stayed until offered for sale in September 1991.
The airframe was purchased by Phoenix Aviation who scrapped most of it, retaining the cockpit section which was moved to Bruntingthorpe where they were based. Soon after, WJ565 was brought by Dave Maingot - a member of Wingless Wonders - who moved the nose section to the South Yorkshire Aircraft Museum in 2003 for display. The cockpit is pretty much all there and is undercover with several other Canberra cockpits in an area which the museum have named 'Canberra Way'.
| | |
| --- | --- |
| | Information on this page current as of 30/10/2023, last updated by Jake |
Find other photos of WJ565 on the following sites:

Air-Britain - Airliners.net - Airplane-Pictures.net - flickr.com - WorldAirPics.com - JetPhotos.net - PlanePictures.net