Blackburn Buccaneer - Survivor XN974
S.2 XN974 - Yorkshire Air Museum (taxiable), Elvington, North Yorkshire
Buccaneer S.2 XN974 at Yorkshire Air Museum, 23rd September 2023; Jake Wallace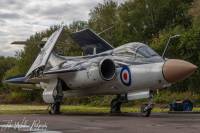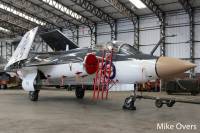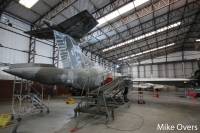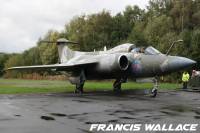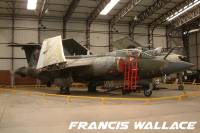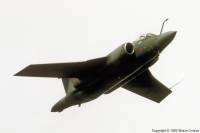 XN974 was first built as an S.1, but later along the production line was converted to an S.2 - making her the first S.2 off the production line. This has made XN974 quite the hybrid Buccaneer with small hints of S.1 throughout the airframe.
The airframe went on to the Royal Aeronautical Establishment in Bedford for work trials and from there to HMS Eagle for sea trials. On her return flight from the USA after hot weather testing, she achieved a record from Goose Bay to Lossiemouth by becoming the first Fleet Air Arm aircraft to fly the transatlantic route non-stop without the support of re-fuelling.
After her successful flying career of trial work, she retired to the Yorkshire Air Museum, Elvington in 1991 where she was placed undercover and kept in fully operational condition. A few years later, she was joined by
XX901
, purchased by the Buccaneer Aircrew Association, and by 2013, was joined by a third Buccaneer -
XV168
. Since Brunthingthorpe's impressive Buccaneer lineup of 4 airframes split up in 2018 and 2020, YAM now has the largest collection of Buccaneer airframes in the world.
The aircraft would carry out taxi runs along the former runway of RAF Elvington for the museum's biannual Thunder Days, but these activities were unfortunately ceased when the owners of the former airfield and runway no longer wanted to allow the museum access to the site. This has resulted in XN974 not being able to carry out taxi runs for the past 7-8 years, but thankfully continues to exercise her engines statically.
During the winter of 2016/17, XN974 received a repaint back into her original Royal Navy colours by Andre Tempest, looking stunning. However, in recent years, the British weather has already begun breaking the paintwork apart such as around the canopy and nose, with the white underside beginning to peel as the hydraulic fluid softens the paint.
Generally, XN974 is displayed outside alongside XX901, and XV168, but happily moves indoors for the winter months.
The above images shows XN974 during her second run of that day after 18 months of being dormant.
| | |
| --- | --- |
| | Information on this page current as of 25/09/2023, last updated by Jake |
Find other photos of XN974 on the following sites:

Air-Britain - Airliners.net - Airplane-Pictures.net - flickr.com - WorldAirPics.com - JetPhotos.net - PlanePictures.net