Blackburn Buccaneer - Survivor ZU-BCR (ex XW987)
S.2B ZU-BCR - Hangar 51 Aviation, (restoration to flight), Port Elizabeth International Airport, Gqeberha, South Africa
Buccaneer S.2B ZU-BCR at Cape Town, 13th January 2022; Rayno Snyman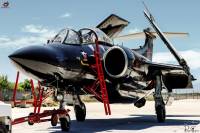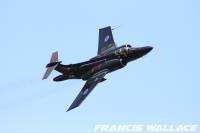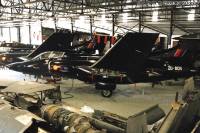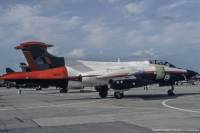 XW987 was delivered to RAE in 1974 where it took part it several test trials. The airframe used to wear an odd yellow, green and black paint scheme while in service with the RAE at West Freugh which was specially designed to show up on photographs of the weapons trials conducted. It soon lost the scheme and was repainted into raspberry ripple colours, however, she started to look a bit patchy by the end with a camouflage-coloured fin, white-nose cone, and unpainted intakes.
XW987 was purchased by Mike Beachy Head in 1995 and arrived in South Africa from the UK on May 2nd 1997. After her arrival, she was painted in overall black and had Shell logos applied, and she flew more or less continuously from then until 2010. Unfortunately, Thunder City was effectively shut down by the SA CAA after identifying various maintenance failings that cost pilot Dave Stock his life in the crash of their Lightning ZU-BEX, resulting in ZU-BCR and the rest of the Thunder City fleet being grounded. Once the investigation came to a close, Thunder City was approved to carry out private flights only. This saw ZU-BCR returning to the skies of Cape Town in February 2012.
Sadly, Thunder City closed around 2016 with the passing of Mike Beachy-Head. The airframes were soon put up for sale, and were later stored outside due to the hangar being repurposed for other uses.
In early 2022, Hangar 51 Aviation purchased some of the Thunder City airframes, which included all three Buccaneers. Hangar 51 Aviation soon opened up ZU-BCR and gave her an anti-deterioration run which went live on FaceBook. Not much happened afterward until late 2022, when they carried out a few more anti-deterioration runs with ZU-BCR, before embarking on a road move to Port Elizabeth International Airport (PE), taking several days. On the 1st of December 2022, she arrived at PE where she will now undergo restoration to return her to flying status. It is hoped her sisters ZU-AVI and ZU-NIP, which are currently being stored at Diemerskraal Airfield, will follow a similar path at a later date.
| | |
| --- | --- |
| | Information on this page current as of 02/12/2022, last updated by Damien |
Find other photos of ZU-BCR on the following sites:

Air-Britain - Airliners.net - Airplane-Pictures.net - flickr.com - WorldAirPics.com - JetPhotos.net - PlanePictures.net