Blackburn Buccaneer - Survivor ZU-NIP (ex XW986)
S.2B ZU-NIP - Hangar 51 Aviation, Cape Town, South Africa
Buccaneer S.2B ZU-NIP at Thunder City, 31st October 2012; Francis Wallace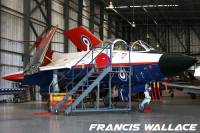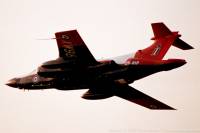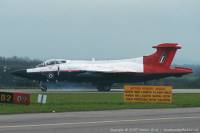 XW986 is an ex-RAE aircraft (hence the paintscheme) and was bought by Delta Jets when it left service. At the time of sale, the aircraft was not in great condition with the tailplane removed and other parts missing. It lived at Wellesbourne Mountford next to Vulcan XM655 for a while, but when Delta moved to Kemble in 1996, XW986 went with them. While at Kemble, Delta Jets did a brilliant job in restoring XW986 to near-perfect condition, with the hope that one day she could fly again. Efforts to fly it in the UK were frustrated by the CAA for a long time and just when there seemed a glimmer of hope for the aircraft she was sold to Ian Pringle in South Africa. Permission was granted for some test flights here in the UK and on Friday 29th March 2002 she flew for the first time in 9 years. She sadly departed these shores a few weeks later and was then based at Mike Beachy Head's Thunder City operation.
After several years of flying again, Thunder City was effectively shut down by the CAA after identifying various maintenance failings that cost pilot Dave Stock his life in the crash of their Lightning ZU-BEX, which meant ZU-NIP was grounded, along with the rest of the fleet. She was put up for sale by auction in November 2011 but did not sell. XW986 never went back up in the air again once Thunder City got the go-ahead due to ongoing restoration works. Around 2016, Thunder City sadly closed its doors, with all the aircraft being towed outside for storage, patiently waiting for a new owner to turn up.
Thankfully, the news many have been waiting to hear, is that ZU-NIP, along with the other airframes were purchased by Hangar 51 based in South Africa in late 2021, with the vision to return a few of them to the air once again for all to enjoy!
| | |
| --- | --- |
| | Information on this page current as of 12/01/2022, last updated by Jake |
Find other photos of ZU-NIP on the following sites:

Air-Britain - Airliners.net - Airplane-Pictures.net - flickr.com - WorldAirPics.com - JetPhotos.net - PlanePictures.net