Blackburn Buccaneer - Survivor ZU-AVI (ex XW988)
S.2B ZU-AVI - Hangar 51 Aviation, Cape Town, South Africa
Buccaneer S.2B ZU-AVI at Thunder City, 31st October 2012; Francis Wallace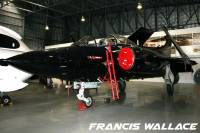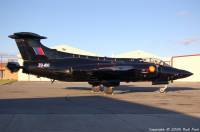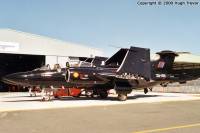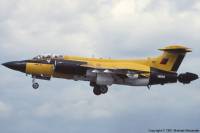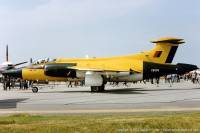 Delivered on 16th May 1974 to the Royal Aircraft Establishment, XW988 spent her entire career with the RAE on various trials work, mostly weapons carriage and release work. She was painted in a patchwork yellow, black and white scheme to aid photographic interpretation and was modified with extra outboard pylons carrying cameras to record weapons release. Unusually, she retained her colour scheme unchanged throughout her active career. Based at various airfields including Boscombe Down and West Freugh, she was retired in 1994.
XW988 arrived in Cape Town in 1996 and after a flight on May 6th of that year lay dormant until her sister XW987 arrived. Mike Beachy Head's Thunder City operation was soon was granted an operator's license by the South African CAA and for some years ZU-AVI tore up the skies of Cape Town regularly and appeared at airshows in South Africa.
Unfortunately with Thunder City being effectively shut down by the CAA after identifying various maintenance failings that cost pilot Dave Stock his life in the crash of their Lightning ZU-BEX. This resulted in ZU-AVI being grounded along with the rest of the airframes. Due to this, flying stopped for some time, but soon enough Thunder City was given the go-ahead again to carry out private flights, this meaning they were no longer allowed to advertise back seat flights in the Buccaneer to the public. She was later put up for sale by auction in November 2011 but did not sell. The airframe then underwent some major restoration work to get her back in the air again, but this was never completed before Thunder City collapsed around 2016. All the aircraft were towed outside and placed in storage while they were put up for sale, patiently waiting for a new owner to come along.
Thankfully, the news many have been waiting to hear, is that ZU-AVI along with the other airframes were purchased by Hangar 51 based in South Africa in late 2021, with the vision to return a few of them to the air once again for all to enjoy!
| | |
| --- | --- |
| | Information on this page current as of 12/01/2022, last updated by Damien |
Find other photos of ZU-AVI on the following sites:

Air-Britain - Airliners.net - Airplane-Pictures.net - flickr.com - WorldAirPics.com - JetPhotos.net - PlanePictures.net