Hawker Sea Hawk - Survivor WV908
FGA.6 WV908 - Fly Navy Heritage Trust (stored), RAF Shawbury, Shropshire
Sea Hawk FGA.6 WV908 at Cottesmore, 25th July 2008; Damien Burke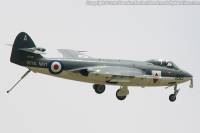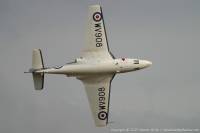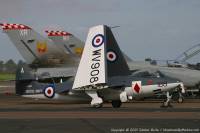 Now what's this... a flying Sea Hawk eh... well, sadly not any more. WV908 was kept in airworthy condition for the Royal Navy Historic Flight but in the 1980s funding became a problem and she was put into store. Once circumstances became right she was taken out of store and brought back into flying condition by British Aerospace, taking to the air once more in late 1996. She appeared on the airshow circuit in 1997 but at the end of the season her maintainers found that the jet pipe had cracked and hot exhaust had been pumping into the fuselage.
The warping and damage caused by this grounded WV908 and work slowly progressed on repairing the damage to bring her back to airworthy condition, finally seeing her return to the air in mid September 2004, just in time for an airshow appearance at Yeovilton followed by one at Biggin Hill the next day. She was grounded once more in 2006 by worries about the stability of the starter cartridges she uses to get her engine going, and the RNHF used the opportunity to move her to Duxford to fit data measuring equipment.
Unfortunately that work dragged on somewhat, as did an ejection seat refurbishment so she missed most of the 2007 season. Another jet pipe crack curtailed her 2008 season, and with the engine having to come out an a plan was hatched to install a Nene from a T-33 (her own Nene 103 is the last airworthy one left). Unfortunately the engine authority wouldn't sign off on that and so the 103 was repaired instead. Just as she was being readied to fly again in mid 2009 yet more problems arrived in the shape of an edict from on high that various hydraulic components needed to be urgently removed and inspected (after a failure on an unrelated type).
She briefly took to the air later in the year but more work was needed before she finally got a full season under her belt in 2010. A full engine stripdown and inspection was then begun and this and the associated paperwork kept the aircraft on the ground afterwards; despite hopes to return her to the air in 2012, that didn't happen and with the RNHF busy with other projects the decision was taken to put WV908 into storage. In February 2016 she was roaded to RAF Shawbury. There is obviously a great deal of challenges involved in operating a 1950s jet under modern safety rules!
When the ownership transferred to the Fly Navy Heritage Trust (Navy Wings), they began producing a feasibility study of a back-to-flight plan for the Sea Hawk, which they announced in June 2022 was both affordable and achievable!
| | |
| --- | --- |
| | Information on this page current as of 23/06/2022, last updated by Jake |
Find other photos of WV908 on the following sites:

Air-Britain - Airliners.net - Airplane-Pictures.net - flickr.com - WorldAirPics.com - JetPhotos.net - PlanePictures.net