Hawker Siddeley Nimrod - Survivor XW666
R.1 XW666 - South Yorkshire Air Museum, AeroVenture, Doncaster, South Yorkshire
Nimrod R.1 XW666 at South Yorkshire Aircraft Museum, 22nd September 2023; Jake Wallace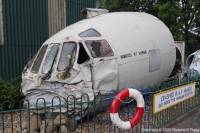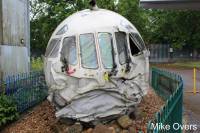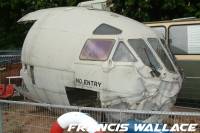 XW666 - nicknamed "Damien" of course - was one of three R.1 Nimrods serving with 51 Sqn. She was built at RAF Woodford and made her first flight in 1973 before being initially delivered to RAF Kinloss in 1974, thereafter being based at RAF Wyton for many years before the squadron moved to RAF Waddington.
On 16th May 1995, after completing major servicing work at RAF Kinloss, XW666 took to the skies for an air test with 7 crew on board. 35 minutes into the flight, after a test of anti-icing systems, the fire warning light for engine No. 4 came on and so the crew started to follow the fire drill procedures, while returning to RAF Kinloss. However, while this was happening the warning light for engine No.3 also lit up and the rear crew confirmed the aircraft was on fire with panels falling from the starboard wing. The captain decided to ditch the aircraft in the Moray Firth as he felt it likely that the aircraft would undergo structural failure before they could reach an airfield. Despite no flaps being available due to hydraulic failure, the ditching was successful, though the impact of the aircraft hitting the water broke its back and caused significant damage to the non-pressurised portion of the underside.
The crew successfully abandoned ship and the wreckage, which sank shortly afterward, was mostly recovered to ascertain the cause. This turned out to be down to a chafed wiring loom that arced when the anti-icing was turned on, driving the engine air start sequence continuously, overspeeding the starter turbine which eventually threw a disc that punctured a fuel tank and ignited the fire.
With the remains of the airframe too badly damaged to be repaired, it was soon scrapped, but the smashed remains of the cockpit were saved and are now on
display in an unrestored state at AeroVenture (SYAM). The force of the impact on the lower nose is very clear!
| | |
| --- | --- |
| | Information on this page current as of 30/10/2023, last updated by Jake |
Find other photos of XW666 on the following sites:

Air-Britain - Airliners.net - Airplane-Pictures.net - flickr.com - WorldAirPics.com - JetPhotos.net - PlanePictures.net