Hawker Siddeley Nimrod - Scale Models

A brief rundown of the various model kits available of the Nimrod.
1/144
Anigrand AA-4036 HS Nimrod MR.2
1/144
Resin
Price ~£75
Released 2010
A pretty nice effort from Anigrand, that builds up to a nice representation of the real thing. The surface detail is a little heavy - more like a diecast model than the usual resin fine detailing. The price is pretty eye-watering, but you do actually get 4 kits in one box - bizarrely, it includes 1/144 resin models of a Merlin HC.3, Britten-Norman Islander/Defender and a supersonic Harrier project, the P.1185.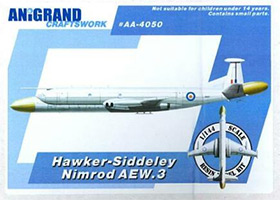 Anigrand AA-4050 HS Nimrod AEW.3
1/144
Resin
Price ~£75
Released 2010
Much the same remarks apply as for their MR.2 kit. The cabin window arrangement is incorrect and you'll need to fill some of the, but other than that it looks pretty good. The 'extra' kits in the box this time are of the Fairey Gannet AEW.3, Hawker P.1121 and Cierva W.11 Airhorse.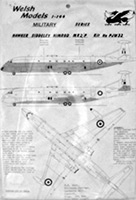 Welsh Models PJW32 HS Nimrod
1/144
Vacform plastic
Price ~£15 (second hand)
Released 1980s
A pretty basic effort, really, and showing its age. Needs a lot of work to get an acceptable result and suffers particularly from misshaped wing tanks and incorrect wing dihedral. Difficult to get the wings to look thin enough at the leading and trailing edges. One to be avoided I think.

Welsh Models PJW77P/78P/79P HS Nimrod
1/144
Vacform plastic
Price ~£42
Released 2015
Available in three different guises, MR.1, MR.2/MR.2P and R.1. Three new versions of their Nimrod kit have come out apparently as 'multimedia' but the manufacturer's own website cannot be bothered to even include photos of their own products... no review available.
1/72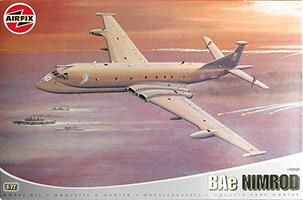 Airfix BAe Nimrod
1/72
Injection moulded
Price ~£35+ (second hand)
Released 2008
The only injection moulded Nimrod in town! Whilst not up to modern Airfix standards, it builds up relatively straightforwardly and looks very much like a Nimrod when complete. There are some fit issues around the wings and intakes, but nothing particularly scary. Unfortunately on the accuracy side, there are a number of problems, notably the cockpit window shapes and the shape of the engine intakes, position of thrust reverser grilles, thickness of the fin fillet, nosewheel extension and mudguards, etc. There are various resin correction sets available to fix these areas if you find the inaccuracies egregious enough but they will near-double the price of the kit in the process. The moulding quality and inaccuracies have given rise to some suggestion that the kit was actually tooled by Trumpeter.
While a decent selection of stores are supplied for the bomb bay, the bay itself is lacking in detail, as is the cockpit (though frankly you can't see much of it, and the bomb bay is so low to the ground that even when open you can't see anything). On the plus side, the various lumps, bumps and aerials are all there and cover all three major versions - R.1, MR.1 and MR.2, including the AAR probe-equipped versions.
The kit provides an impressive marking selection, covering no fewer than 6 different schemes covering the R.1, MR.1 and MR.2 in most variations of the three major schemes worn by the type, but boxings of the kit included a very poorly printed decal sheet. Airfix, at the time, provided free reprints of the sheet which were improved in quality (these are marked 3/A12050/A at bottom right rather than 3/A12050), but if you buy it now, it's something to beware of and potentially budget for some replacement decals, various third party efforts have come out since.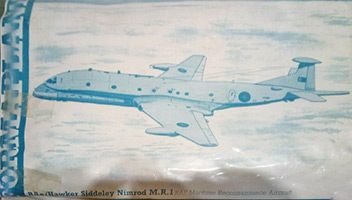 Formaplane HS Nimrod MR.1
1/72
Vacform plastic
Price ~£20+ (second hand)
Released 1970s
This is a truly ancient vacform only a little younger than the Nimrod itself. Extremely basic with inaccurate, uneven and soft surface detail. The wings have the wrong span and dihedral. The fin fillet is far too thick. The wing tanks are the wrong shape. Compared to modern kits, this is the stuff of nightmares. Could potentially be repurposed for use as a fan in hot weather. Avoid.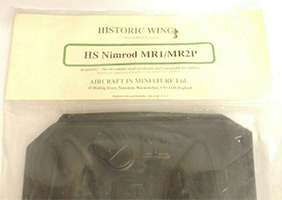 Historic Wings HS Nimrod MR1/MR2P
1/72
Vacform plastic
Price ~£40+ (second hand)
Released 1990s
An upgrade of the truly ancient 1970s Formaplane vacform, the upgrade really only consists of thicker plastic plus a few white metal bits. The surface detail remains terribly basic, uneven and inaccurate. The wings have the wrong span and dihedral. The fin fillet is far too thick. The wing tanks are the wrong shape. Frankly with the Airfix kit available, this is nothing more than a historical curio and best avoided. Could perhaps provide a few second's heat if you set fire to it in a post-apocalypse scenario where civilisation has ended and your central heating has gone kaput. Don't breathe the fumes kids.