Hawker Siddeley Nimrod - Survivor XV148
MR.1 XV148 - Martin Painter, Boscombe Down Aviation Collection, Old Sarum Airfield, Wiltshire
Nimrod MR.1 XV148 at Cornwall Aviation Heritage Centre, 8th October 2022; Jake Wallace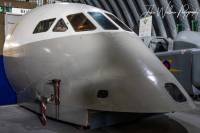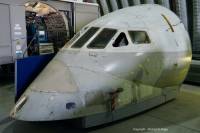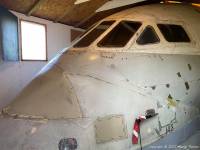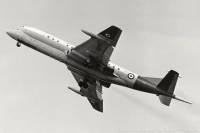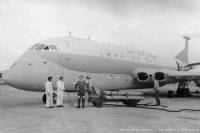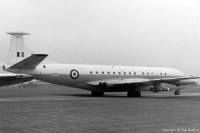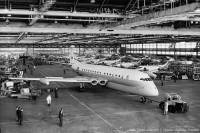 XV148 was one of two partially built and unsold Comet 4 airframes converted to Nimrod prototypes and considered the first prototype with XV147 the second. Unlike XV147, this airframe was fitted with Spey engines. She carried out trials work throughout her career, which began with the first flight on 23rd May 1967 with John "Cat's Eyes" Cunningham of WW2 fame as the test pilot (a nod to history as he had test flown the original Comet 4) with Jimmy Harrison, Avro's chief test pilot, as co-pilot. It was a short flight, basically positioning from the de Havilland Hawarden factory at Chester to HS/Avro's airfield at Woodford.
XV148 was used by HS/BAE as the aerodynamic prototype for the Nimrod, and other than an enlargement of the fin fillet to improve directional stability, little else was needed during extensive trials out of Woodford. In 1968 it was passed on to the Aeroplane & Armament Experimental Establishment at Boscombe Down for assessment trials, then returned to Woodford in 1969 for missile trials including clearance of the AS-12 and SS-11 AGMs, which took place back at Boscombe in 1971/72. From then on she was used for Searchwater radar trials in aid of the MR.2 programme, moving to the Radar Research Establishment at Pershore in 1975. In 1977 she was allocated to the Royal Aircraft Establishment at Bedford for continued research and trials, including clearance of the MR.2 avionics suite, during which she gained a distinctive paint scheme including a red tail and wing panels.
XV148 carried out her final research flight on 4th April 1982, crewed by Sqn Ldr Geoff Mannings (captain), Flt Lt Chris White (co-pilot), Flt Lt Stan Swanson (air engineer), and rear crew Flt Lt Trev Carpenter, Flt Lt Tony Payne, Alan Cleaver, Colin Laundon, John Toop, Sqn Ldr Mike Graham, Tim Holt, Peter Chapman, and Sqn Ldr John Broom. She made one further flight, her last, from Bedford to Woodford on 4th May 1982 - this time crewed by Sqn Ldr Geoff Mannings (captain), Flt Lt Stoo Waring (co-pilot), Flt Lt Stan Swanson (air engineer), Geoff Harrop (navigator) and Colin Laundon.
At Woodford, she was partially dismantled to be used for stress and fatigue trials to keep the MR.2 fleet flying into the future, and also went on to be of some use in the early part of the MRA.4 project. The cockpit section ended up being stripped out and stored outside, and most of the surviving airframe was scrapped in 1999.
The cockpit shell was acquired by Martin Painter who took on the challenge of rebuilding her, and by early 2015 he had restored it from a shell full of bird nests and foliage to a mostly complete cockpit, with power being able to be applied to the flight deck. He's still on the hunt for a Comet bucket seat for the engineer's position if you can help. He's also working on a book on the Nimrod - which is sounding like it may be the "bible" on the type.
The cockpit was tucked away into a custom-made building for several years until April 2021 when XV148 was put on loan to the Cornwall Aviation Heritage Centre (CAHC) where she was on display until their unfortunate closure in 2023. Soon after her arrival at the museum, XV148 was treated to a repaint by the volunteers of CAHC, making the cockpit look rather smart, although does lack a couple of markings.
Due to the closure of CAHC, Martin has placed XV148 on loan to the Boscombe Down Aviation Collection, where she can be seen on display today.
| | |
| --- | --- |
| | Information on this page current as of 20/05/2023, last updated by Jake |
Find other photos of XV148 on the following sites:

Air-Britain - Airliners.net - Airplane-Pictures.net - flickr.com - WorldAirPics.com - JetPhotos.net - PlanePictures.net