Hawker Siddeley Nimrod - Survivor XV249
R.1 XV249 - RAF Museum Midlands, RAF Cosford, Shropshire
Nimrod R.1 XV249 at RAF Cosford Museum, 21st April 2022; Jake Wallace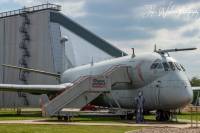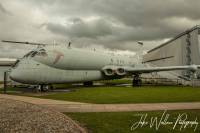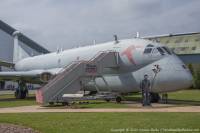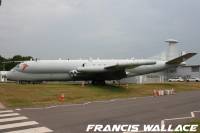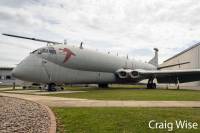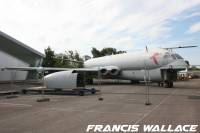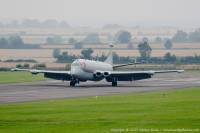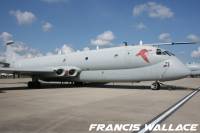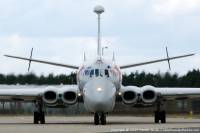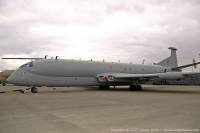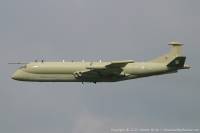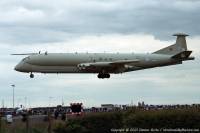 Nimrod XV249 was assembled at RAF Woodford as a Hawker Siddeley HS.801 Nimrod MR.1 in 1966, one of 46 delivered to the Royal Air Force. Her first engine run took place on the 20th of November 1970 with her first flight being on the 22nd of December 1970 from RAF Woodford lasting 2 hours 20 minutes. The aircraft was then delivered to RAF Kinloss in February 1971.
On November 1982, XV249 scrambled for a SAR call out from Ascension Island searching for a Victor tanker which had failed to make pre-briefed radio reports. The Victor was located at 55 nautical miles out and had suffered a total high frequency radio failure.
XV249 was flown back in RAF Woodford in December 1983 for an MR.2 conversion. The aircraft's first flight as an MR.2 took place on 12th February 1985. She was then delivered back to RAF Kinloss after the conversion. After flying 11,941 hours, XV249 was withdrawn from service in October 1992 alongside three other Nimrod MR.2s and placed into storage at RAF Kinloss, bringing the fleet down to 28.
On 16th May 1995, 51 Squadron Nimrod R.1 XW666 ditched into the Moray Firth due to a starter motor explosion which damaged the fuel tanks, causing a major in-flight fire. Thankfully all the crew survived, and the aircraft was later retrieved but was written off (cockpit section was saved and can be seen at AeroVenture in Doncaster). The airframe of XV249 was identified as a suitable replacement, being low houred - though if they'd asked her previous maintainers, they might have found out this was because she was a bit of a hangar queen with regular fuel leaks in her history.
Accordingly, XV249 was taken out of storage for modification from an MR.2 to an R.1 standard to replace XW666. In reference to the TV programme "Challenge Anneka", the job was nicknamed "Project Anneka" as it looked like an impossible task to do it in the time and budget planned for! After an initial overhaul at Kinloss, in October 1995 she was ferried to BAe Woodford for stripping of all ASW equipment. The airframe saw a new equipment bay being added and a new rear cabin layout, along with the addition of some antenna fairings.
In December 1996 she was delivered to 51 Squadron's new base, RAF Waddington, and on 2nd April 1997 XV249 took to the skies for her first air test as a Nimrod R.1 from there. A few weeks later, the aircraft was declared operational as an R.1. In 2003 the aircraft was deployed to the Gulf area to support Operation Southern Watch where she patrolled the southern no-fly zone over Iraq.
By the end of 2010, XV249 had a special scheme applied to her to celebrate the Nimrod R.1s service with 51 Squadron from 1974 to 2011 which can be seen in some of the photos above. With the withdrawal of the Nimrod MR.2 and the scrapping of the MRA.4 project, only the Waddington-based Nimrods remained, XV249 and XW664. XV249 was then sadly withdrawn from normal service on the 9th June 2011 and on the 28th June 2011, a formal retirement ceremony for the Nimrod R.1 took place at RAF Waddington with XV249 making a farewell flypast.
2nd/3rd July was the very last public appearance of the type in RAF service with Nimrods XV249 and XW664 statically displayed at the RAF Waddington Airshow. On 29th July 2011 the world saw the very last flight of the Hawker Siddeley Nimrod when XV249 took to the skies one last time from RAF Waddington at 10.00am. After doing a couple of flypasts the aircraft then headed off to Cotswold Airport (former RAF Kemble) where the Nimrod made its last ever touchdown.
In early 2012, XV249 was taken on briefly by Air Salvage International (ASI) to be dismantled for the road move to the RAF Museum, Cosford which took place over a number of days in March 2012. Once all parts of the kit were at RAF Cosford, the aircraft was rebuilt and positioned outside, in between the visitors centre and the Test Flight hangar which was completed by September 2012. Shortly after, the museum held a formal unveiling ceremony for XV249 on the 28th of September.
Today, her commemorative markings are sadly fading away and are in desperate need of redoing, a shame they weren't at least treated to a coat of protective varnish on arrival. The paint is in a relatively good state apart from the odd areas where it is beginning to flake. The airframe is pretty complete apart from her engines, and she is oddly missing her starboard tailplane flap. XV249 is often opened up to the public, allowing visitors to have a look around one of the last complete R.1 airframes.
| | |
| --- | --- |
| | Information on this page current as of 24/04/2022, last updated by Jake |
Find other photos of XV249 on the following sites:

Air-Britain - Airliners.net - Airplane-Pictures.net - flickr.com - WorldAirPics.com - JetPhotos.net - PlanePictures.net