Fairey Gannet - Survivor XG883
T.5 XG883 - Museum of Berkshire Aviation, Woodley, Berkshire
Gannet T.5 XG883 at Woodley, 30th December 2012; Richard E Flagg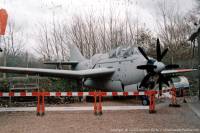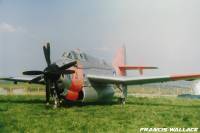 First flown in May 1957, XG883 was put into storage for nearly 3 years on delivery to the RN, only entering service in March 1960, with the Station Flight at RNAS Culdrose. She soon moved to 849 NAS, in August 1960, and bar some rework back at Fairey at White Waltham during 1964 to 1966, she stayed with 849 NAS (including moving with them to RNAS Brawdy) until retired from active duty in January 1970. She was then stored at Yeovilton and eventually donated to the Fleet Air Arm Museum, who put on loan to the Wales Air Museum at Cardiff Airport in 1983.
Rescued from the collapse of the Wales Air Museum in 1996, XG883 is now on permanent loan to the Museum of Berkshire Aviation. Having suffered much corrosion when at Cardiff, it has been an ongoing restoration project at Woodley, and they've done a magnificent job to get her looking like this. The paint job is not entirely accurate, as in the interests of easier maintenance they have used red and light grey paint rather than dayglo and silver. She is set to stay here as the FAA Museum (who have loaned her to MBA) have said they don't want her back as long as she is looked after.
Some years ago the museum applied for planning application to extend their building to keep her dry and warm, but so far there is no sign of progress with this. Inside the museum they also have a Double Mamba engine on display. With the only other T.5 in the UK on the point of destruction, XG883 may well be the only surviving UK example of the type in the near future (though this has been said since 2009!).
| | |
| --- | --- |
| | Information on this page current as of 09/05/2022, last updated by Jake |
Find other photos of XG883 on the following sites:

Air-Britain - Airliners.net - Airplane-Pictures.net - flickr.com - WorldAirPics.com - JetPhotos.net - PlanePictures.net