Fairey Gannet - Survivor XA459
ECM.6 XA459 - Solway Aviation Museum, Carlisle Airport, Cumbria
Gannet ECM.6 XA459 at Solway Aviation Museum, 19th August 2023; Damien Burke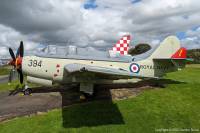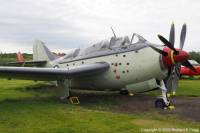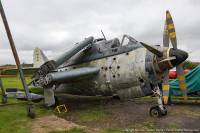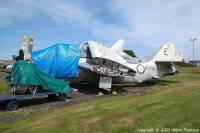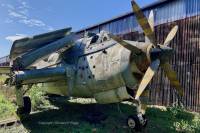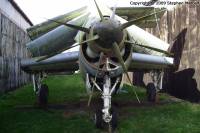 XA459 was built as an AS.4 but had a short career, joining 814 NAS in March 1957 and being grounded in June the same year after a sonobuoy failed to release properly and damaged the rear fuselage. Repaired by October 1958, she was flown to the Aircraft Holding Unit at Abbotsinch and not re-issued to a squadron. She was then flown to NARIU at Lee-on-Solent and converted to an ECM.6 before being issued to 831 NAS at Culdrose in May 1961.
She finished her active career with the same unit in 1966, by now based at RAF Watton. Initially used as a ground instructional airframe at Lee and later Culdrose, she was then used by the School of Aircraft Handlers also at Culdrose before being earmarked for preservation and dismantled in late 1978 ready for a move to a museum. This happened in April 1979, XA459 travelling by road to Cardiff and being put on display at the now-extinct Cardiff Air Museum. Whilst there she gained a rather odd paint job (her last scheme with 831 would have been as per her current appearance - the standard sky/extra dark sea grey scheme with red upper finlets with yellow lightning flash, and red spinner with a single yellow stripe); this aircraft never served onboard HMS Eagle so the E worn on the tail at that point was incorrect, and the whole nose area was all a bit odd. With the collapse of this museum in the late 80s, she was bought by a private owner who had transported her to his home in Cirencester in late 1990 and where she could be seen by the side of the bypass.
In 1999, she moved on once again to Lambourn Woodlands in Berkshire, and the then-owner was keen to begin a restoration, possibly to airworthy standards. Unfortunately, tragedy then struck twice, with the father and son team that was going to restore the aircraft both killed in separate accidents. The aircraft was put up for sale by the family and was bought by the owner of White Waltham Airfield (where Fairey built and test-flew the Gannet), being roaded there in November 2006.
She was then stored between a couple of hangars with no apparent restoration efforts and spent several more years fighting the elements, becoming ever grubbier with surface rust blooming in many places. At some point, the canopy over the pilot's cockpit was smashed, and no attempt was made to cover it, so the front cockpit suffered badly from water ingress.
Happily, the Solway Aviation Museum took her on in February 2020 and a slow but sure restoration was begun. Over the course of 2021, a replacement canopy was found and fitted, with the airframe being rubbed down in preparation for a repaint. In mid-2022 the airframe was fully repainted and she regained her original accurate markings in 2023.
The volunteers of Solway Aviation Museum have done a very impressive job on the restoration of XA459 so far, considering that several years ago there seemed to be very little hope for this airframe.
| | |
| --- | --- |
| | Information on this page current as of 20/08/2023, last updated by Damien |
Find other photos of XA459 on the following sites:

Air-Britain - Airliners.net - Airplane-Pictures.net - flickr.com - WorldAirPics.com - JetPhotos.net - PlanePictures.net