Fairey Gannet - Survivor XA460
ECM.6 XA460 - Ulster Aviation Society, Long Kesh, Lisburn, Northern Ireland
Gannet ECM.6 XA460 at Ulster Aviation Society, 5th March 2022; Jake Wallace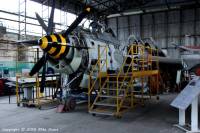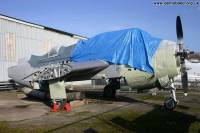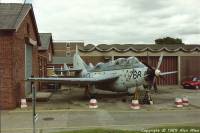 XA460 started life as an AS.4 and was delivered to the Aircraft Receipt and Dispatch Unit (ARDU) in October 1956, and was placed straight into storage. It was then transferred to the Aircraft Handling Unit at Abbotsinch and later to the Aircraft Handling Unit at Culdrose before joining 849HQ training flight at Culdrose in February 1969. XA460 has a list of technical issues, including port engine failing to restart after shutdown in flight, smoke detected in the cockpit and port engine seized in flight. During the early 1960s, the airframe was converted to an ECM.6 and went back into service with 831 Sqn, however, technical issues continued and the port engine seized completely in late 1965. In 1966, XA460 was transferred to Lee-on-Solent where she was supposedly meant to be converted back to an AS.4, but this never seemed to happen. It later returned to the skies in 1967 when there was a shortage of Fairey Gannets before retiring in 1970.
XA460 was sold to the Flintshire College of Technology. Flown from Lossiemouth to Hawarden in 1971, she was towed behind a tractor to the college and used the Aeronautical Engineering Department for training purposes until 1995, when she became a gate guardian displayed in front of the college's main building. XA460 was once in good condition but the Welsh climate and the sea air had not been kind to her; covered in algae, showing signs of corrosion with damage in places and the canopy frames were so rotten she was open to the rain - no doubt the cockpits were total disaster areas. She really was a sad sight.
In mid-2003 the college donated her to 750 (Thorne) Squadron ATC in Doncaster, and she was to be moved to the AeroVenture museum there but sadly the move to Doncaster was not handled well. The nose was hacked off; one prop blade was badly bent and another was broken off when the nose gear collapsed. Others were then cut off so the nose could lie on its side, which caused another to be bent too and the canopies to be smashed. An object lesson in how not to begin a restoration! After it arrived at Doncaster, restoration was very slow but steady.
In December 2011, they donated her to the Ulster Aviation Society and so was exported to Northern Ireland where they're based. Since moving to UAS, XA460 is undergoing a very thorough restoration project, and although work looks slow, they are making a steady process. At the time the above photo was taken, the cockpits had been stripped and were receiving a repaint. Looking at the restoration efforts that went into their Phantom
XT864
, the Gannet is going to look impressive!
| | |
| --- | --- |
| | Information on this page current as of 06/03/2022, last updated by Jake |
Find other photos of XA460 on the following sites:

Air-Britain - Airliners.net - Airplane-Pictures.net - flickr.com - WorldAirPics.com - JetPhotos.net - PlanePictures.net