S.2B XX888 - Bill Fern, South Yorkshire Air Museum, AeroVenture, Doncaster, South Yorkshire
Buccaneer S.2B XX888 at South Yorkshire Air Museum, 9th July 2021; Carolyn Cordran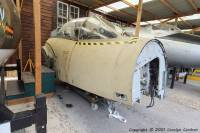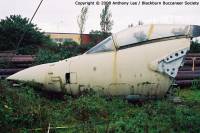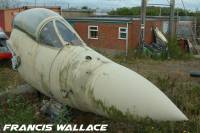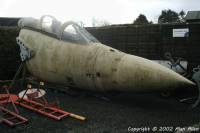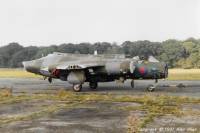 XX888 made it's first flight on 21th November 1974 and retired to RAF Shawbury for storage in 1991 with 16 Sqn. Months later the aircraft was scrapped and thankfully the cockpit section survived.
It was then moved to Dundonald where it was on display with Buccaneer cockpits
XT280
and XV161 (now believed to be scrapped). The cockpit was rather complete except one or two components and the refuelling probe. Sometime during its time at Dundonald, XX888 received a half-hearted paint job into a colour that somewhat resembles desert pink, even though this is not an ex-Gulf War airframe!
Around 2004, the cockpit moved on to a new owner who transported it to Barnstaple. The then-new owner Tim, intended to carry out a full restoration project on the cockpit, unfortunately this never seemed to have happened and instead stayed sat in an unused area where nature claimed it.
Around 2009, XX888 sadly had the bottom of the cockpit chopped by an engineer, unfortunately the cut down the starboard side doesn't seem to have been done with much care or sympathy. In 2019, XX888 came up for sale, but due to the COVID-19 pandemic in 2020, any offers for the cockpit had to wait due to lockdown restrictions, delaying the sale.
But in June 2021, the cockpit was sold to Bill Fern who moved it to the South Yorkshire Air Museum, AeroVenture by road a few weeks later on the 7th July where it became the third Buccaneer cockpit section on site! - Joining,
XZ431
and a Buccaneer
test rig
once thought to be XN979.
Today, XX888 is in quite a sad state with the bottom of the cockpit being poorly cut and a hole in the skin behind the navigators seat on the starboard side. The interior has got quite a few components missing which will hopefully be added over time if they become available.
Since its arrival at the museum the cockpit has been washed to make it much more presentable than it was, the cut down the starboard side will be tidied up in time and the paint will soon be sanded down to prepare for a repaint at some point in the near future. A spare canopy frame has been sourced to replace the original which was damaged, hence why the photo above shows XX888 without a canopy fitted.
The nose cone and the intermediate section stayed with the previous owner Tim, to become a garden ornament - its not like it can be fitted back to XX888 now the bottom has been chopped anyways!
| | |
| --- | --- |
| | Information on this page current as of 10/07/2021, last updated by Jake |
Find other photos of XX888 on the following sites:

Air-Britain - Airliners.net - Airplane-Pictures.net - flickr.com - WorldAirPics.com - JetPhotos.net - PlanePictures.net