Blackburn Buccaneer - Survivor N/A Test Rig
S.2 N/A - Marcus & Carolyn Cordran, South Yorkshire Aircraft Museum, AeroVenture, Doncaster, South Yorkshire
Buccaneer S.2 N/A at South Yorkshire Aircraft Museum, 22nd September 2023; Jake Wallace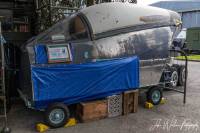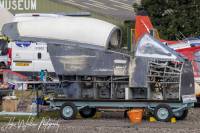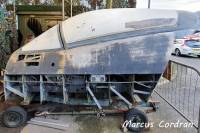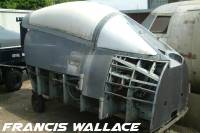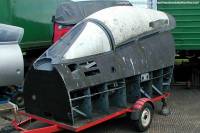 For over 20 years, this cockpit was believed to be the nose section of XN979 which unfortunately stalled and crashed into the sea after a carrier take off in 1966. It has recently been confirmed that this is not the airframe we all thought it was!
This is a test rig that was built at Brough, possibly around the 1960s, and was used at Brough and Hatfield!
Once the ATC had finished with it, the cockpit was then transported to South Yorkshire Air Museum, also know as AeroVenture where she has sat on display for several years, fairly unloved.
In October 2020, Carolyn and her son, Marcus, purchased the cockpit section (thinking they were getting XN979) as Marcus was very keen to restore her - "I want to give her some life and bring her back into the state she deserves to be in. I'm learning lots of engineering skills to keep working with Buccaneers and other aircraft. I love working on my dream aircraft".
Both Marcus and Carolyn have currently been restoring the oxygen trolley on which the cockpit section sits on.
Their plans over time are to, repaint her in the colours at the time of 1966 on HMS Victorious, complete the front cockpit as much as possible and even provide lighting to some instrument panels! They would also like to complete as much of the rear cockpit as possible but unfortunately is hard to access due to the lack of canopy rails.
At the beginning of 2021 with the COVID-19 lockdowns, Marcus and Carolyn, with a lot of help from aviation groups and people researched into their cockpit section. It was quickly found to be very difficult researching this cockpit and things didn't quite line up. After looking at the data plate on the nose section, it has been confirmed that the cockpit we all thought was XN979, is actually a test rig once used at Brough and Hatfield! It is believed the cockpit of XN979 was scrapped way back in the 1980s, although this is still yet to be confirmed...!
Even though Marcus was a little disappointed hearing this news, he was still very keen to get cracking with the restoration of the cockpit which Carolyn who has said is still planned to be painted into 1966 FAA colours as if it was XN979 - now not only will they share the history of their test rig, but XN979 as well!
The photo above shows the test rig on display at cockpit-fest 2021 with its starboard window panel in the process of having a wash by Marcus which is slowly removing the white protective coating.
Carolyn and Marcus are still heavily researching into both XN979 and the test rig which they are currently seeking some help with - if you know any information, or history about either one of these cockpits, please contact them via their Facebook page which can be found below - any information will be greatly appreciated.
Check out their Facebook page for any updates on her restoration:
Blackburn Buccaneer S2 Cockpit Rig - XN979
| | |
| --- | --- |
| | Information on this page current as of 30/10/2023, last updated by Jake |
Find other photos of N/A on the following sites:

Air-Britain - Airliners.net - Airplane-Pictures.net - flickr.com - WorldAirPics.com - JetPhotos.net - PlanePictures.net