Blackburn Buccaneer - Survivor XK533
S.1 XK533 - Stoneykirk Aviation Museum, Stoneykirk, Stranraer
Buccaneer S.1 XK533 at Stoneykirk Aviation Museum, 16th November 2021; Stoneykirk Aviation Museum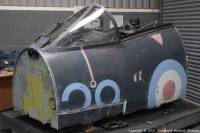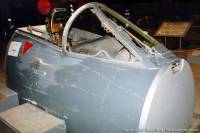 Possibly the smallest Buccaneer cockpit section around, XK533 first flew on July 3rd 1961, and was delivered to the Royal Navy a few months later. Unfortunately, on October 10th 1963, XK533 suffered an engine failure mid-flight caused by fuel starvation to the engine which lead to thoughts of a possible fuel pump failure. The airframe didn't quite make it back to RAF Lossiemouth on one engine and sadly crashed into the Moray Firth just one mile away from the airfield - thankfully both crew ejected safely! XK533 was recovered soon after the event and got written off on October 21st 1963.
The pilot's cockpit was saved and placed on display at the National Museum of Flight, Scotland in 1985. It was used for several years as a sit-in exhibit, although it was mostly gutted with the instrument panel represented by a painted wooden panel with painted-on instruments, plus a Lightning ejector seat. By the early 2000s, the museum decided to move the cockpit section into 'deep storage' due to "health and safety issues". After storage at the museum, the cockpit reemerged on the internet in February 2021 when the museum put her up for disposal as a gift to any interested museum. She was accordingly disposed of by gift to the Dumfries and Galloway Aviation Museum in October 2021; DGAM have since loaned to the Stoneykirk Aviation Museum who moved it to their site on the 30th of October.
It's great to see that already restoration work has begun on her - the top layer of paint has been removed, showing the original paint below and deck number 229 which is in surprisingly good condition. The ejection seat has been removed to allow easier access to work in the cockpit which the volunteers hope to fill if possible. Looking left of the photo, you can make out the mock-up front panel that used to be in the cockpit when at East Fortune which didn't look too great. - At last, this cockpit (albeit a shell) will be on display once again for people to see. The museum is currently closed to visitors but will re-open to the public in March 2022.
| | |
| --- | --- |
| | Information on this page current as of 19/12/2021, last updated by Damien |
Find other photos of XK533 on the following sites:

Air-Britain - Airliners.net - Airplane-Pictures.net - flickr.com - WorldAirPics.com - JetPhotos.net - PlanePictures.net