Blackburn Buccaneer - Survivor XK533
S.1 XK533 - Stoneykirk Aviation Museum, Stoneykirk, Stranraer
Buccaneer S.1 XK533 at Newark Air Museum, 25th June 2022; Damien Burke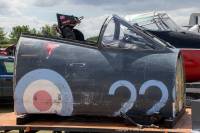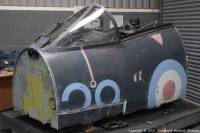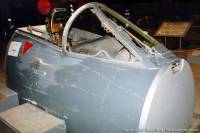 Possibly the smallest Buccaneer cockpit section around, XK533 first flew on July 3rd 1961, and was delivered to the Royal Navy a few months later. Unfortunately, on October 10th 1963, XK533 suffered an engine failure mid-flight caused by fuel starvation to the engine which lead to thoughts of a possible fuel pump failure. The airframe didn't quite make it back to RAF Lossiemouth on one engine and sadly crashed into the Moray Firth just one mile away from the airfield - thankfully both crew ejected safely! XK533 was recovered soon after the event and got written off on October 21st 1963. While most of the airframe was scrapped, the cockpit was retained and converted to a ground instructional simulator, remaining in use until 1972.
Disposed of to the National Museum of Flight at East Fortune, they stored it for some years, finally putting it on display in the late 1990s. It was used for several years as a sit-in exhibit, although by then it was mostly gutted with the instrument panel represented by a painted wooden panel with painted-on instruments, and had been fitted with a Lightning ejector seat.
By the early 2000s, the museum decided to move the cockpit section back into 'deep storage' due to unspecified "health and safety issues". After a long time in the dark, the cockpit re-emerged on the internet in February 2021 when the museum put her up for disposal as a gift to any interested museum. She was accordingly disposed of by gift to the Dumfries and Galloway Aviation Museum in October 2021; DGAM have since loaned to the Stoneykirk Aviation Museum, who moved it to their site on the 30th of October.
Restoration work began immediately. The top layer of paint, applied to her during her instructional days, was carefully sanded off to reveal her original paint below, complete with stencil markings and the remnants of her deck number 229. Inspection of her at the 2022 Cockpitfest event showed great progress had been made on rebuilding the cockpit structure and populating it with instruments, and a gun sight was acquired at the event to further complete her. A stunning transformation from the nearly empty shell that had been gathering dust in the gloom of East Fortune's storage hangar!
| | |
| --- | --- |
| | Information on this page current as of 10/07/2022, last updated by Damien |
Find other photos of XK533 on the following sites:

Air-Britain - Airliners.net - Airplane-Pictures.net - flickr.com - WorldAirPics.com - JetPhotos.net - PlanePictures.net