Blackburn Buccaneer - Survivor XX901
S.2B XX901 - Yorkshire Air Museum, Elvington, North Yorkshire
Buccaneer S.2B XX901 at Yorkshire Air Museum, 23rd September 2023; Jake Wallace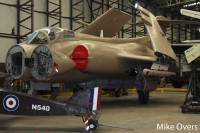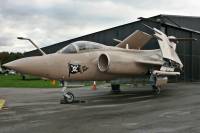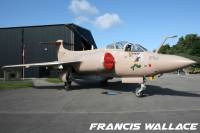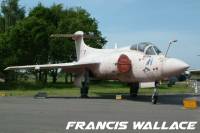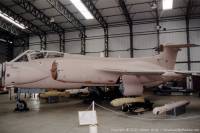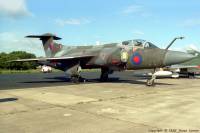 XX901/N was apart of the second batch of Buccaneers sent out to the Gulf War in January 1991 along side XX895/G, XX885/L, XX894/O, XV863/S and XV352/U. Some of the Buccaneers starboard side was decorated with some nose art of which XX901 was on of them, wearing the nose art - Kathryn, the Flying Mermaid. The Buccaneers role in the war were to provide laser-designation capabilities to the Tornado GR.1's as this would improve the precision of their bombing.
It wasn't very often a Buccaneer dropped bombs in anger but on the 27th February 1991, XX901 attacked a KAF C-130 at Shayka Mazhar air base, unfortunately the bomb never went off. However, the force of impact from the bomb on to the C-130 caused it to break in two and although she didn't destroy the aircraft they still felt she should wear the AN-12 symbol which can be seen today on the starboard side just below the front window screen.
XX901 was moved to the Yorkshire Air Museum in Elvington by road sometime in the 90s from St Athan, owned by the Buccaneer Aircrew Association (BAA). She was then often kept undercover next to the museum's Buccaneer XN974 for the winter and then was displayed outside in the summer. The airframe was soon repainted back into her Gulf War colours, the artist who painted the original nose art in the war came back to do it again! Sadly the paint quickly faded into an almost white colour, and so was repainted again around 2010/11 by Andre Tempest. It's a rather brown colour to represent the desert pink scheme but looks rather smart nonetheless!
In 2013, XX901 and XN974 were joined by another Buccaneer, XV168 from Brough, bringing the total up to three. However, this still did not beat Bruntingthorpe's impressive lineup of 4, which has sadly since split up.
In late 2020, David Herriot who was a member of the BAA sadly passed away. The BAA has since printed his name under the port windshield in memory of him, which can be seen in the above image. In more recent times, XX901 was handed over to the Yorkshire Air Museum which now looks after and displays the aircraft.
| | |
| --- | --- |
| | Information on this page current as of 25/09/2023, last updated by Jake |
Find other photos of XX901 on the following sites:

Air-Britain - Airliners.net - Airplane-Pictures.net - flickr.com - WorldAirPics.com - JetPhotos.net - PlanePictures.net