Blackburn Buccaneer - Survivor XX895
S.2B XX895 - Matt Johnson, Thorpe Camp Visitor Centre, Tattershall Thorpe, Lincolnshire
Buccaneer S.2B XX895 at Thorpe Camp, 28th August 2021; Jake Wallace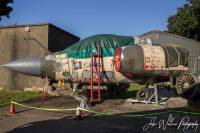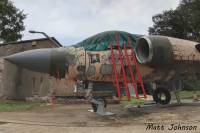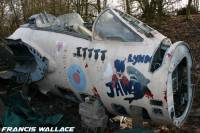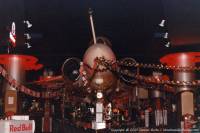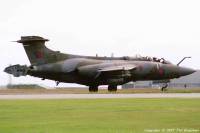 XX895 first started service with the Royal Air Force in October 1975. This airframe was painted in desert pink with the artwork Lynn, Jaws (including shark teeth on the nose cone), tailed coded 'G' and named Glenfiddichin in 1991 for the Gulf War. XX895 received 5 mission markings during the war which, isn't much compared to others.
XX895 retired into St Athan wearing the overall grey colours in 1994 for disposal, the aircraft was soon sold to Planets Leisure Centre bar in Woking for display. Before the road move, her tail was chopped in half to allow it to fit inside the building, her undercarriage doors and pitot tube was also removed. She was displayed above the bar (see above photos) for many years repainted back in the gulf war colours. She didn't stay here long, mainly due to the fact she kept dripping with hydraulic fluid all over the staff and floor!
XX895 was brought by a private owner who dismantled it for the road moved to Fenny Compton in the late 1990s. Her owner let several people strip her of parts to help go towards the preservation of other static and running Buccaneers around at the time. The owner then chopped up XX895 and stored the nose section in a yard where it was reclaimed by nature.
In the year 2013, the cockpit section was brought by Matt Johnson (this deal, unfortunately, did not include XX895s original intermediate section and nose cone which is still to this day stored in a yard near Fenny Compton). On a cold day in December 2015, Matt road moved the cockpit section to his local museum, Thorpe Camp where it joined Lightning
XM192
.
Matt wasted no time in getting XX895 back to her correct height with the nose wheel fully extended, a replacement nose cone, intermediate nose section, and her original canopy (albeit smashed due to how she was dismantled) have been fitted - a good canopy has been sourced and will be fitted in the near future. Both cockpits are complete including ejection seats with just a handful of holes left to fill. XX895 has also been fitted with intakes and engine panels on both sides making it a rather large nose section of the type. In August 2021, Thorpe Camp managed to get hold of a Spey 101 engine, this example can be seen on display next to XX895 to allow visitors a close look at the type of engine fitted to the Buccaneer S.2B.
In 2022, Matt is planning to treat XX895 to a re-spray, the colour scheme she will wear is still yet to be decided. To keep up to date with the restoration of cockpit section XX895, go and join the
Blackburn Buccaneer XX895
Facebook page.
| | |
| --- | --- |
| | Information on this page current as of 10/10/2021, last updated by Jake |
Find other photos of XX895 on the following sites:

Air-Britain - Airliners.net - Airplane-Pictures.net - flickr.com - WorldAirPics.com - JetPhotos.net - PlanePictures.net