S.2B XX895 - Matt Johnson, Thorpe Camp Visitor Centre, Tattershall Thorpe, Lincolnshire
Buccaneer S.2B XX895 at Thorpe Camp, 7th October 2020; Matt Johnson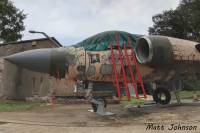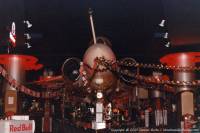 Once mounted on the bar at the Planets leisure complex in Woking, XX895, a Gulf veteran as you can see, has had happier times. The fin was cut off to clear the roof, the undercarriage doors and pitot were removed and it was adorned with various drinks advertisements. While it had survived the smoky atmosphere of a bar, sadly the place changed hands and the new owners had the aircraft removed - in pieces. The new owner used what remained of the airframe (which was tail-less to fit into the bar) for spares for another aircraft and then scrapped most of it, keeping only the nose. She was stored (I think that's the kind description) near Bicester then at Fenny Compton until Matt acquired her in 2013 and moved her to Thorpe Camp in December 2015.
Since arrival at Thorpe Camp Matt has wasted no time in getting 895 back to her correct height with the nose wheel now fully extended. A replacement nose cone, intermediate nose section and canopy have also been fitted. Although Matt has her original canopy it unfortunately has been too badly damaged to use. The whereabouts of 895's original nose cone and intermediate sections are known but are sadly unobtainable for the restoration so for the time being at least she looks a bit of a patchwork quilt using the spares that have been obtained!
Both cockpits are now reasonably complete including ejection seats, however, there are still a few holes in the rear cockpit to fill. The canopy that is currently fitted is damaged beyond repair but fortunately Matt has a replacement that will be fitted after the cockpit section has been painted. As you can see in the photo above, Matt has fitted XX895 with intakes and engine panels on both sides making her one of the largest Buccaneer cockpit sections in existence! Matt is also planning on treating XX895 to a new paint job in the summer of 2021, but it is unknown what colour scheme he will paint her at this time. Matt is looking for ex-RAF painters to help with this next stage of the restoration, if you can help, please contact him through the
Blackburn Buccaneer XX895
Facebook page.
| | |
| --- | --- |
| | Information on this page current as of 08/12/2020 |
Find other photos of XX895 on the following sites:

Air-Britain - Airliners.net - Airplane-Pictures.net - flickr.com - WorldAirPics.com - JetPhotos.net - PlanePictures.net