Fairey Gannet - Survivor XL449
AEW.3 XL449 - Robin Phipps, Steventon, Oxfordshire
Gannet AEW.3 XL449 at Steventon, 25th October 2021; Robin Phipps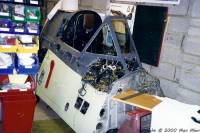 Taking to the skies for the first time in 1958, XL449 was delivered to the Royal Navy nearly a year later.
XL449 retired in September 1978 and was moved to the Wales Aircraft Museum in Cardiff for display. Sadly, the museum closed, resulting the majority of the collection getting scrapped, thankfully, XL449s cockpit was saved. The cockpit was sold to a private collector in 1996 who moved it to Enstone, it later moved to Parkhouse Aviation, Booker in 1997, and on to Parkhouse Aviation Camberley in 2001. Many of the systems were still live, and there were plans for the cockpit to be mounted to a hydraulic rig so it could be 'flown'! It was then moved to Wycombe Air Park in late 2008.
The cockpit has since been purchased by Robin Phipps who has moved the cockpit to Steventon in Oxfordshire. Much of the interior has been restored and refitted with just the odd instrument missing here and there, while the exterior is currently awaiting a fresh lick of paint.
| | |
| --- | --- |
| | Information on this page current as of 17/02/2022, last updated by Jake |
Find other photos of XL449 on the following sites:

Air-Britain - Airliners.net - Airplane-Pictures.net - flickr.com - WorldAirPics.com - JetPhotos.net - PlanePictures.net