Blackburn Buccaneer - Survivor XV863
S.2B XV863 - Weston Airport, (scrapped), Dublin, Eire
Buccaneer S.2B XV863 at Weston Airport, 14th March 2016; Francis Wallace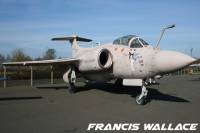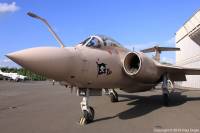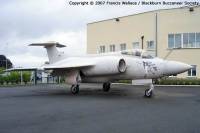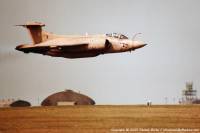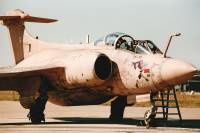 Above is gulf veteran XV863 which first took to the skies on May 29th, 1968, and was delivered to the Royal Navy a few months later. Throughout her RN career, she was coded 065/LM, 020/R, 025/R, and 036/R in that order. In early 1973, she flew into Brough and was upgraded to an S.2D standard.
On the 27th of November 1978, she was transferred to the RAF at St Athan with No.19MU and was upgraded to an S.2B standard a year later. XV863 was transferred to 16 Sqn based at RAF Laarbruch in Germany and tail coded 'U'. She was later moved to 237 OCU, where she was tail coded '863' in early 1984 and 'CC' in late 1984. In 1985 she was issued to 208 Sqn coded as '863' before moving back to 237 OCU in 1987 and keeping her tail code. In January 1991 she was prepared for the Gulf War, being repainted into Alkali Removeable Temporary Finish (ARTF), or more commonly known as 'desert pink'. XV863 was tail coded 'S', named Tamnavoulin, and had the nose art - 'Debbie, Sea Witch'. During the Gulf, she acquired 6 mission symbols which were displayed below the cockpit on the starboard side. In March 1991, she returned from the Gulf War and re-joined 237 OCU at RAF Lossiemouth. A couple of years later, XV863 was withdrawn from service and was issued as a maintenance airframe with the number 9115M.
In March of 1994, the airframe was repainted into Gulf War colours and placed on gate guard duties at RAF Lossiemouth for a number of years. Standing outside for so long in the salty sea air did her no good and as a result, became rather corroded in many areas, undercarriage bays especially. XV863 was removed from the gate and got replaced by Tornado GR.1 ZA475, so she was placed in storage on base as 9145M in November 2001. In April 2007, XV863 was put up for disposal and was brought by a private collector who road moved the aircraft from RAF Lossiemouth to Weston Airport in Dublin, Ireland. Once reassembled and on display, XV863 was treated to a repaint which certainly smartened her up! Sadly, a few years later, the owner could no longer afford to pay for the rent, this leaving the airframe in the hands of the airport who wanted to dispose of her almost immediately. After going up for sale every so often, she could be found languishing around different parts of the airport for several years waiting for a new owner and home. XV863 was still very much complete at this point including engines.
In 2019, her seats were removed as the airport wanted to display them somewhere on-site, XV863 was then moved to the far end of the airfield as the airport decided to, at long last, display her! Sadly, this never happened, instead they have dumped her at the 07 end, opened all the engine panels, and remove the engines. Today, her engines are nowhere to be seen, all engine panels have been left on the floor corroding away, and the front cockpit filling up with water every time it rains with the canopy having been left open since they removed the ejection seats.
In early 2022, it was announced that Lossiemouth's former gate guard, XV863 had been sold to the scrapman. The aircraft was scrapped over a few days soon after purchase with nothing being saved. The Buccaneer Aviation Group did put in an offer to save the airframe, but sadly, the group was unsuccessful with their bid.
It's a great shame that nothing was saved from XV863...
| | |
| --- | --- |
| | Information on this page current as of 20/01/2022, last updated by Jake |
Find other photos of XV863 on the following sites:

Air-Britain - Airliners.net - Airplane-Pictures.net - flickr.com - WorldAirPics.com - JetPhotos.net - PlanePictures.net