Blackburn Buccaneer - Survivor XN923
S.1 XN923 - Gatwick Aviation Museum (runner), Charlwood, Surrey
Buccaneer S.1 XN923 at Gatwick Aviation Museum, 6th August 2023; Damien Burke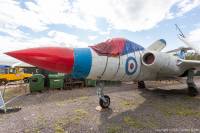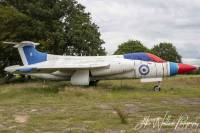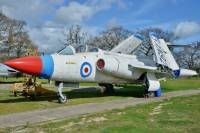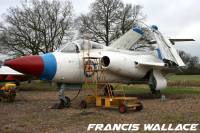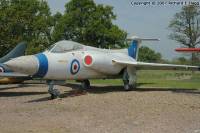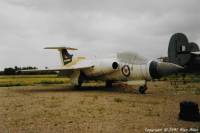 This particular Buccaneer was the second production S.1 and after a brief stint with 700Z NAS, the Navy's trials squadron and the A&AEE, XN923 was assigned to the Royal Aircraft Establishment at Farnborough and carried out a lot of test and development work, which included the fitting of the familiar fixed refuelling probe. Inside the detachable nose cone, various pieces of equipment were fitted for trials.
After retirement XN923 was moved to the dump at Boscombe Down by 1986, sadly, this is where various damage was caused - for instance she'd be towed across smouldering fires to move her out of the way! The years fighting the elements with no care resulted in a fair amount of corrosion, especially on the parts made of Magnesium alloy.
Thankfully, in March 1990, XN923 was transported by road to the Gatwick Aviation Museum for display. Work got underway with restoring her back to running condition - which was fairly optimistic! The somewhat melted tyres were replaced, and she was partially repainted in 1999. Years later, the first engine runs began, making this airframe the world's only live Buccaneer S.1! The aircraft had a replacement engine fitted in 2011/2012 as corrosion had set in on the original.
With the museum's hangar being built by 2016 to house all the smaller aircraft, one end was given a tall enough ceiling to permit higher-tailed aircraft to be parked inside. This honour soon went to their Lightning
53-671
, but in 2017 the plan was to swap the airframes around for some time and treat XN923 to an in-depth restoration. An initial delay in this plan resulted in XN923 being left outdoors for another couple of years (and gaining a nice new custom-made canopy cover), and then much-needed hydraulic rectification work on the Lightning followed by the Covid pandemic put a halt to proceedings, leaving XN923 outside ever since.
Recent visits show XN923 with some corrosion setting in, especially around the back of the jet pipe where panels are made of Magnesium alloy and some holes have appeared in many places on the metalwork, but some of this damage was possibly done at Boscombe Down. The aircraft last had an engine run around July/August 2020 and had her wing folding mechanism demonstrated using a hydraulic rig in May 2022.
Hopefully, this airframe can go undercover soon for that promised restoration, but in the meantime she's tucked away beside the Museum's reception building, where she's been placed to be nearer the workshop, so that she can be worked on more readily.
| | |
| --- | --- |
| | Information on this page current as of 07/08/2023, last updated by Damien |
Find other photos of XN923 on the following sites:

Air-Britain - Airliners.net - Airplane-Pictures.net - flickr.com - WorldAirPics.com - JetPhotos.net - PlanePictures.net