S.1 XN923 - Gatwick Aviation Museum (runner), Charlwood, Surrey
Buccaneer S.1 XN923 at Gatwick Aviation Museum, 26th June 2021; Jake Wallace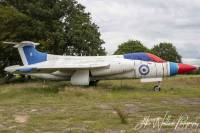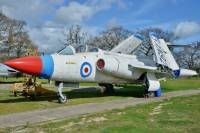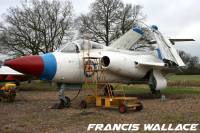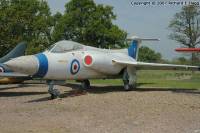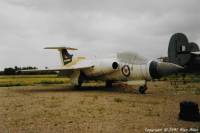 This is S.1 XN923, which was a part of Peter Vallance's collection. This particular Buccaneer was the second production S.1 and after a brief stint with 700Z NAS, the Navy's trials squadron and the A&AEE, XN923 was assigned to the Royal Aircraft Establishment at Farnborough and carried out a lot of test and development work, which included the fitting of the familiar fixed refuelling probe. Inside the detachable nose cone various pieces of equipment were fitted for trials.
After retirement XN923 was moved to the dumped at Boscombe Down by 1986, sadly, this is where most of the damage was done. Before already burning fires on the dump had finished, they'd tow the airframe back over the top of them so it was out the way, this caused the tires to melt into very odd shaps, and being outside also didn't help as it was fighting the elements with no care resulting in a fair amount of corrosion, especially on the parts made of Magnesium Alloy.
Thankfully in March 1990, XN923 was transported by road to Gatwick Aviation Museum for display. Work got underway with restoring it back to a live condition which was fairly optimistic, the tyres were replaced and partial repaint in 1999. Years later, the first engine runs began making this airframe the world's only live Buccaneer S.1! The aircraft had a replacement engine fitted in 2011/2012 as corrosion had set in on the original.
With the museum's hangar being built by 2016 to house all the smaller aircraft and their Lightning
53-671
resulted in no room left inside for XN923, along with their Shackleton, Sea Devon and Hunter GA.11.
Recent visits show XN923 with a lot of corrosion setting in, especially around the back of the jet pipe where panels are made of Magnesium Alloy, holes have appeared in many places on the metalwork, but some of this damage was possibly done at Boscombe Down. The aircraft is run up to 65% every now and then with its last run being around July/August 2020. Hopefully, this airframe can go undercover one day and have its own restoration project..!
The photo above was taken when the museum was closed to the public and so the grass had grown a bit, this would usually be trimmed and the aircraft had received a wash not long after.
| | |
| --- | --- |
| | Information on this page current as of 10/07/2021, last updated by Jake |
Find other photos of XN923 on the following sites:

Air-Britain - Airliners.net - Airplane-Pictures.net - flickr.com - WorldAirPics.com - JetPhotos.net - PlanePictures.net