Blackburn Buccaneer - Survivor 416
S.50 416 - SAAF Museum, SAAF Ysterplaat, Cape Town, South Africa
Buccaneer S.50 416 at SAAF Ysterplaat, September 2019; Normal Larsen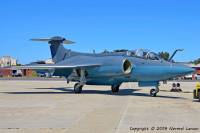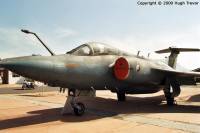 Buccaneer 416 was delivered to the SAAF Museum at AFB Ysterplaat on 4th April 1991 in pristine condition! The aircraft was on display at the museum until 1996/97 where it was then transferred to Thunder City.
416 was put on display in Thunder City's facility at Cape Town International Airport and was repainted, unfortunately in an incorrect colour scheme.
Around 2006/07, the airframe was no longer needed at Thunder City and therefore was moved to the military side of the Cape Town International Airport where it was sadly left in open storage, exposed to the elements. Due the 416 now battling the elements, its condition deteriorated over the years and the cockpit at some stage had been forced open with some of the instrumentation removed. The canopy was never properly closed after this resulting in rain water and dust making their way into the cockpit.
Thankfully, it was eventually decided that 416 must be brought back to the Museum at Ysterplaat and on the 7th of February 2013, the process was completed.
The aircraft was then taken to one of the base hangars where Jonathan Durand and his team started a project to restore 416 back to its former glory as a static display at the museum.
The team started the long cleaning process, stripping off the paint, removing the ejection seats, taking off a rather faded canopy and the front side quater panels, rolling the bomb door open and opening the air brake, etc. In the meantime, a brand new canopy bubble was donated by The Buccaneer Aviation Group when based at Bruntingthorpe, UK. Jonathan and the team were very delighted and thankful for the generous donation. The supply of a replacement refueling panel was also ex-UK and was deilvered by BA pilot and TBAG pilot, Mike Birt. Charlie Worth, a former SAAF Buccaneer observer and Noel Flynn, a former SAAF Buccneer pilot arranged the logistics to get the canopy bubble for the UK to the Ysterplaat Museum.
Eventually 416 was ready to go inside the base spray shop for a repaint and by the end of March 2019, came out the hangar looking like a brand new Buccaneer!
Once back in the hangar, refurbished ejection seats were refitted and the canopy put back on.
416 is currently safe inside the hangar being well looked after. Once the base is back open due to the COVID-19 endemic, the team can get back to the restoration. Future plans are to put all markings back on, fit the main undercarriage doors (One is currently missing, but hopefully another can be sourced from somewhere). The team also managed to get a hold of some long range slipper tanks which will be cleaned, repainted and fitted once delivered.
The restoration work continues...!
| | |
| --- | --- |
| | Information on this page current as of 30/03/2021, last updated by Jake |
Find other photos of 416 on the following sites:

Air-Britain - Airliners.net - Airplane-Pictures.net - flickr.com - WorldAirPics.com - JetPhotos.net - PlanePictures.net