Blackburn Buccaneer - Survivor XV864
S.2B XV864 - Richard Murray, Spey Bay, RAF Manston History Museum, Kent
Buccaneer S.2B XV864 at Manston Fire Training School, 21st October 2017; Richard E Flagg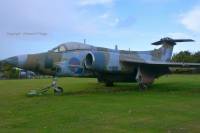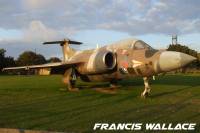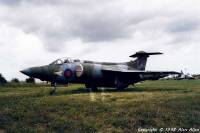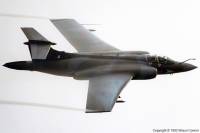 Buccaneer XV864 made it's first flight on the 19th June 1968 and was delivered to the Royal Navy in September the same year.
The airframe was then transferred to the Royal Air Force a decade later when the Royal Navy had finished with the aircraft type.
XV864 made it's last flight into Manston Airport on the 5th April 1994. The airframe was then moved over to the fire training school at Manston soon after.
Thankfully, XV864 has avoided being burnt at all despite being a fire crew training aid at Manston, and was instead used primarily for aircrew extraction training.
Unfortunately this meant the canopy was more or less permanently open and as a result the cockpit is in pretty poor condition with 90% of the internals removed including the instrument frame work.
The airframe has been battling the weather ever since retirement and at some point in it's life at the fire school was placed on grass, so over time the aircrafts wheels have completely sunk into the ground.
In late 2020 she was put up for sale and was quickly sold along with other airframes at the Manston fire school to Richard Murray who has put it on loan to the
RAF Manston History Museum.
In May 2021, XV864 had it's wings folded and was towed from the fire school over to the museum, this was the first time the airframe had been in the public eye for decades!
The museum has some long term plans for the airframe to be restored, although considering how empty and corroded it is, this is quite the ambition, however, it is great to see that XV864 has escaped the scrap man and is finally going to get some much needed love.
The picture above shows her relaxing in the golden hour back in 2008.
| | |
| --- | --- |
| | Information on this page current as of 02/08/2021, last updated by Jake |
Find other photos of XV864 on the following sites:

Air-Britain - Airliners.net - Airplane-Pictures.net - flickr.com - WorldAirPics.com - JetPhotos.net - PlanePictures.net